WordPress vs Drupal

Whether you have the experience and knowledge to build your own website or you intend to hire a web designer or web developer it's important to ask yourself what CMS would be better for your website.
A CMS, or Content Management System is the tool to help organise, manage and create the content on your website as well as providing the basic frameworks and foundation. A CMS also has additional features such as optimizing pages for improved search results and can be modified with plugins and support to improve the website and visitor experience.
The most popular and widely used CMS is  Wordpress, due to its ease of use and simplicity. Drupal, however is another CMS that, although not as popular as Wordpress is still considered a powerful framework that provides a solid, secure foundation for any website. So, we've put together a 'Wordpress vs Drupal' guide to help you decide what CMS is right for you.
What is WordPress?
First released in 2003, WordPress is an open source website and blogging software written in PHP and is probably the most powerful and widely used CMS today. You may typically think of blogging software when you hear WordPress but it is so much more than that. There are actually two versions of its software, the first being WordPress hosted sites which is more of a blog or an online portfolio. The second version is the self-hosted site which you are able to download and install on your own web server. Providing you've bought hosting space from a webhost such as 1and1 or Godaddy that supports MySQL you can install WordPress straight from your hosting server's control panel or you can install it via an FTP client like Filezilla or Transmit.
Why WordPress ?
The first thing to mention would be its ease of use. You don't need to be a programmer or an experienced web designer to manage the dashboard and usually takes a couple of days to become accustomed to depending on your computer literacy. Although it helps to have knowledge of HTML and CSS if you want to change the look and feel, it's not wholly required. What WordPress offers is a huge library of plugins, themes and support that allow you to get the very best out of your website and technical support when needed. Plugins are to websites what Apps are to mobile phones and if you've ever heard the phrase 'There's an App for that' then with WordPress there is likely a plugin for that. They can improve your SEO, security and even add e-commerce options to turn your website into an online store. You can also add important services like Google Analytics to track site traffic and analyse the behaviour and source of your visitors.  And if you're knowledgeable in PHP and JavaScript you can even program your own plugins.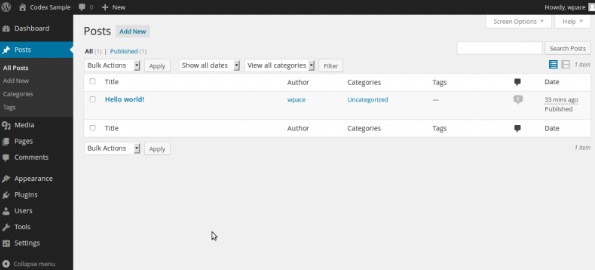 When it comes to modifying content, the page editor has a WYSIWYG tool (similar to how Microsoft Word functions) that allows anyone to add, change and remove text on a page which means anyone with a basic understanding of IT can easily make amends if required.  There's also a mobile App which allows you to edit on the go!
The caching options of WordPress are very convenient too if you expect your site to get large traffic spikes as caching can improve your site speed and also your Google Page Speed which impacts your search ranking. Cache plugins like Varnish and W3 Total Cache (W3TC) plugin can help improve site performace and optimise a content-heavy site.
What are the disadvantages?
As easy and customizable the CMS may be it might not be what you would use if you were going to develop a website large in scale. It's fully capable in operating large websites such as TechCrunch but it is blogging software after all and has been upgraded over the years to support all different kinds of content options. WordPress may boast a huge library of plugins but browsing through them you'll find a lot of plugins are no longer supported or untested with your version of WordPress.
The other issue is security. WordPress is secure but this is due to the constant updates it releases and this can become an annoyance and even break certain elements of your website if you have customised the HTML or PHP to your website's advantage. Also, being one of the most popular CMS's available it could be potentially targeted by hackers.
If you did want to operate an e-commerce website than the simplest way to do so would be to download the appropriate plugin as this isn't built into WordPress  by default. The problem with this is that you don't have full control over it and if you did require further technical support due to an issue you would have to deal with the plugin developer who may take longer than necessary to get back or possibly charge for support. The point is, if you do want your own online store you're better off having someone develop it for you and look at alternative CMS's in order to do so.
What is Drupal?
Drupal is a content-management framework powered by PHP and is a popular alternative to WordPress, with millions of websites being powered by it. It has an active community providing a high level of technical support and thousands of plugins (this time known as modules) to improve the website experience. Drupal was built as a flexible platform capable of any type of website you may require for your company or services. In fact, it is used as a CMS for many large companies and organisations such as Oxfam, Fujifilm and the official website for the White House.
Why Drupal?
Unlike WordPress, Drupal was built as a website management tool rather than an advanced blogging tool. Drupal is fully capable of operating as a blog but it can offer so much more and be used to operate a large e-commerce store, a forum or a listings website. With its extensive list of modules and community of technical advisors you're not far from getting the right features and support for your website.  Drupal is ideal for larger, more technically sophisticated websites and gives web developers more freedom and flexibility to create high-end and enterprise-scale websites. Drupal co-founder Dries Buytaert stated that "Drupal shines with more complex websites. It's a great solution for people who want to build feature-rich websites and it's a great solution for large enterprises. That's our sweet spot."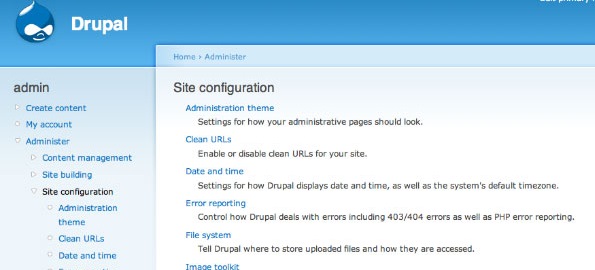 Drupal can make any kind of website and also has a good track record in terms of security. Like WordPress there are core updates to maintain security and support but is less likely to break your website if you have customised it heavily. It is designed with complex websites in mind and if you have plans for a large website and have experience with HTML, PHP and JavaScript to develop it than Drupal is probably the best choice for you.
What are the disadvantages?
Drupal can be slightly difficult to use and is not as 'Out of the box' as WordPress is. If you want a complex website and like the appeal of Drupal but lack the developer experience than hiring a technical web developer would be the best option. Although recently Drupal have improved the interface with later versions to make it easier to use, the difference in ease of use with WordPress is quite significant though this may be subject to opinion.
Finally, even though Drupal can support large and complex websites larger sites can of course put more of a strain on the web server's resources and cause site load time to suffer. When this happens you will also need a good understanding of server architecture and management to get the best out of a server, or even to recognise that you will need better hardware to improve performance.
So what should I use?
Both are excellent tools for managing content but it all depends on what kind of website you want as the end result. If you only require a smaller, static website with elements of functionality and certain dynamic pages then WordPress is a very good choice. It's easy to use, highly customisable and works right out of the box. Drupal is the right choice if you have a larger, more complex website in mind but you will need advanced knowledge of web development to maintain and manage the framework of Drupal.
However, there's nothing stopping you from using both if you want a complex website as well as a blog. Several companies operate blogs and often keep them separated from the main website. Even though Drupal is fully capable of operating a blog, WordPress is often cited as the better blogging tool and has excellent social media integration for sharing and promoting articles.
It's not so much a competition of Wordpress vs Drupal and deciding what is the better CMS but using this information and advice in deciding what would be the better CMS for you.
Quick Pro's and Cons
WordPress Pro's

Easy to Use
Plenty of support and plugins
SEO Friendly
Open source and easy to manage

WordPress Con's

The CMS is a potential target for hackers due to
Many outdated and no longer supported plugins
Plugins can add Copyright notices on bottom of website unless you buy a license

Drupal Pro's

Ideal for large scale websites
A knowledgeable support community
SEO Friendly
Plenty of modules

Drupal Con's

Can be difficult to use
Requires great technical expertise
May require server management knowledge to get the best performance in larger sites.
If you're more of an advanced user, Drupal might be a preferred choice, but WordPress does give you a lot more options and a huge community of support which would be useful for beginners and experienced alike. Hopefully this guide has given you some insight and advice on what CMS is right for you. Both are fully capable of delivering the type of website you want so it's a good idea to visit each website and learn more about them both before you make the decision.