IT jobs in Tel Aviv
---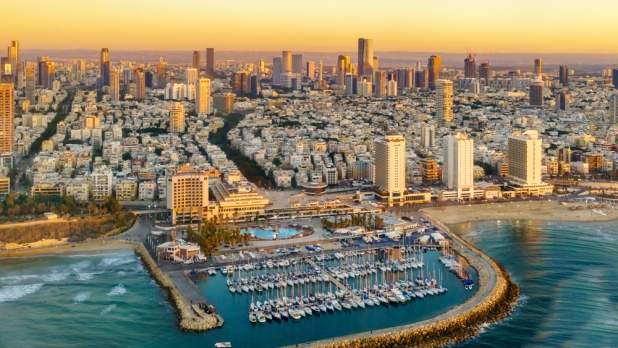 Tel Aviv is a major city in Israel which is located 40 miles northwest of Jerusalem. Tel Aviv is described as the city that never stops, it's a thriving, vibrant, modern and a multicultural city. Tel Aviv's population is wealthier than the nation's average and its average household is typically smaller. Jewish individuals represent the majority of Tel Aviv's population, however there are a small number of Muslims and Christians that also contribute to its population.
Tel Aviv forms the core of Israel's economy as one sixth of jobs are located in the city. Two fifths of all of Israel's jobs in banking, insurance and finance are located in Tel Aviv. The city has retained a role as a high technology industrial centre and therefore it is likely that you will find several IT jobs in Tel Aviv.
It has a typical Mediterranean climate with distinct summer and winter seasons. The summers are warm and humid with its hottest month being August where the temperature reaches 30 degrees and a minimum of 24. Temperatures in January, the coolest month, are an average high of 18 degrees and minimum 10. It's unlikely that snow will fall in Tel Aviv as the weather stays quite mild with no major natural hazards.
Working Practices
The tech sector in Tel Aviv is very strong and holds some of the highest salaries in the market. The field includes the likes of developers, programmers QA's, technical writers, tech support and more. It isn't essential that you are a technology literate if you are looking for an IT job in Tel Aviv, as long as you have worked for a tech company, it will help you when approaching the Israeli market.
In Tel Aviv, they offer their employees benefits such as, sick days, holidays, national health insurance, pension schemes and transportation funds. For senior employees there is a chance that you could be offered additional transportation funds, a mobile phone and company car. Below are some average annual salaries of IT jobs in Tel Aviv:
Software Engineer - £58,189
IT Manager - £66,096
Business Analyst - £42,156
Mobile Developer - £72,500
Project Manager - £57,895
Web Developer - £46,032
Applying for jobs
The most used languages in Tel Aviv are Hebrew, Arabic and English. Russian and French are also used sometimes amongst people who live there but not often.
If you are looking to work in Tel Aviv, you can start your job search online. Most websites will be in Hebrew but there are a few in English. Networking is also really important in Tel Aviv as more than 60% of job openings are never normally listed publicly. The more people you network with, the better your chances are of finding a job. When it comes to applying for IT jobs in Tel Aviv, it may be beneficial to have an Israeli address on your CV as some companies will not look at your CV if your address is in the UK. If you have a few connections in Tel Aviv, it may worth asking them to use their address whilst you apply for jobs if you are still in the UK.
It may also be useful to sign up to recruitment agencies if you are struggling to find an IT job in Tel Aviv. Many agencies will help those who speak English find a job. Alternatively, the Ministry of immigration and Absorption will assist you with career opportunities.
Living in Tel Aviv
Living costs in Tel Aviv are similar to the living costs in London. Prices for accommodation range from £900 - £1800 for a furnished studio to a furnished flat in a nice area. Utilities bills will cost around £200 a monthly based on 2 people sharing a flat. A basic lunchtime meal will cost around £13 and a basic dinner £31.
Tel Aviv depends on motor transportation including buses, suburban trains and a light rail system. A monthly ticket for public transport can cost up to £50.
Finding an IT job in Tel Aviv
Israel is frequently referred to as the second Silicon Valley as it has a reputation for quality and talent in technology. The programming languages such as Java, C# and PHP are in high demand in Tel Aviv. Having experience and knowledge in languages such as JavaScript, HTML, CSS and RubyonRail are also useful languages to have if you are looking for IT jobs in Tel Aviv.
There is also a demand for skilled tech workers in fields such as software and product infrastructure, data science, machine learning and AI in Tel Aviv. This is because there is currently a shortage of 15,000 skilled workers who are needed to fill tech positions.
Some multinational companies such as Intel, Microsoft, IBM and more have established foreign subsidiaries throughout Israel and are looking to employ.