7 Ways to Ace Your Next Video Interview
---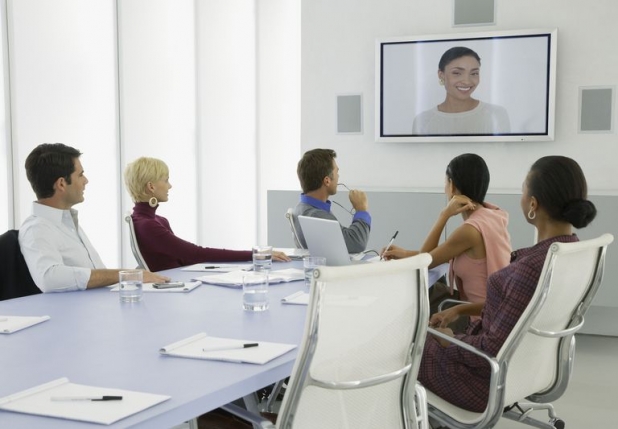 Whether you're new to video interviews, or have experienced them before, this new way of interviewing can feel more daunting than meeting face-to-face.  As technology develops, more and more companies are choosing to use video interviews, so we've put together some tips to help you ace that interview.
1. Select the best location
Interviewing via video means that you can select the location. It's important that you feel comfortable in your chosen location, but you should ensure that it's not distracting. Choosing a neutral background (perhaps just a plain wall) eliminates distraction – the interviewer doesn't care about your DVD collection, or pictures of last year's family holiday.
It's also important that there is limited noise, so try to select somewhere you know you won't be disturbed, and you can have complete focus. You certainly don't want any gate-crashers like this guy!
2. Use the best technology
When preparing for your next video interview, ensure you select the best technology for the job. Make sure to test your laptop, webcam, Skype, whatever it is that you've chosen to use.
We all know that technology can be temperamental from time to time, so be sure to prepare for glitches. If you have more than one laptop or computer in the house, have one on standby should you encounter a problem. It might be worth sitting next to your router, too, to reduce the chance of Wi-Fi disturbances.
3. Complete full preparations
Though a video interview may be new to you, the usual interview preparation should apply. Be sure to research the company beforehand: know your CV and anticipate some of the questions you might be asked. If you're nervous, perhaps ask a friend or family member to do a rehearsal with you the day before.
4. Look directly at the camera
During your interview, be sure to look straight at the camera and make eye contact with the interviewer. This is not the time to be checking yourself out on screen, and you should make sure that you look professional beforehand. Lack of eye contact, even over video, can signify dishonesty or perhaps that you're nervous.
5. Dress professionally
You may be sitting in your bedroom, but this is still a job interview and you should dress as such. Potential employers are not going to be very impressed if you flash up on screen in your pyjamas, and dressing professionally may even help you to feel more confident. If possible, avoid wearing white, depending on the lighting and location of the room it could appear too bright and distracting via camera.
6. Watch your hand gestures
You may be a frequent user of hand gestures during a conversation, but over video chat they can be very distracting and unnecessary. Keep calm, and if you have to place your hands on the desk in front of you, try to avoid nervous fidgeting (especially if video interviews are new to you).
7. Cheat sheets
One of the benefits to a video interview is that you can make note of any points you really want to put across, and as long as they're out of sight, the interviewer will never know!
So, don't let the web cam throw you. The key to any successful interview is forward thinking, whether that's location, research or your outfit; so make sure you come prepared!
About the author: Laura Slingo is Digital Copywriter for the UK's leading job board, CV-Library. For more expert advice on job searches, careers and the workplace, visit their Career Advice pages.