Your guide to living and working in Coventry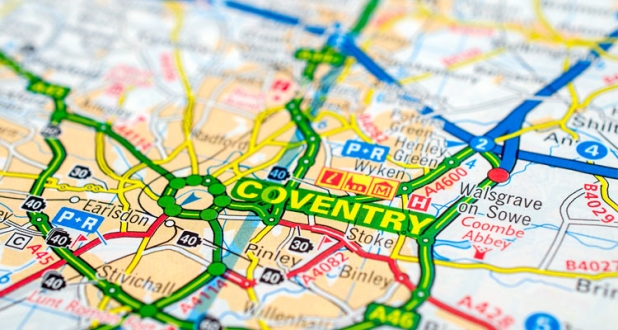 Named as one of the top 10 places to live and work in the UK, Coventry is a vibrant city with affordable housing and plenty of employment opportunities, especially if you're in the IT or engineering industry.
What's more, a multi-million pound local growth deal was recently secured for Coventry and Warwickshire, ensuring this growth will continue. The local government has committed to investing £42.44 million towards the location to help create jobs and support businesses.
As a result, there's no better time to consider working in Coventry. Read on to discover exactly what it's like to live and work in this thriving city.
Employment opportunities in this city
Coventry is the place to go right now if you're in the IT or engineering industry. It's renowned for being a motor hub and is resultantly opening up a whole new realm of jobs for those in tech and engineering.
Recently, a new £8 million emissions testing centre opened its doors at HORIBA MIRA in nearby town, Nuneaton, creating a range of high-level tech and engineering jobs for locals. The centre is expected to create more role as it undertakes more work over the coming months. 
In addition, car maker and major West-Midlands employer, Jaguar Land Rover, also has a range of employment opportunities for both seasoned professionals and juniors, having taken on 1,500 graduates and 930 apprentices in the last six years.
If you're looking for a rewarding career in technology in Coventry, you should also look to Pailton Engineering, a global leader in the design and manufacture of steering systems for blue-chip customers. It's an industry leader in this part of the country and hugely progressive as the firm recently hired its first female engineer apprentice in its 45-year history.
Living in this city
Life in Coventry is a vibrant one and has a history of triumphing against adversity and uniting with pride. In fact, in honour of its diverse culture, the city is in the five-city shortlist to be UK City of Culture 2021. It is predicted that if the Coventry wins the accolade, it would gain tremendous social, cultural and economic benefits – such as an £80 million boost in tourism. Now that's a thriving city.
Other cultural hot spots around Coventry include its Herbert Art Gallery and Museum and Bagot's Castle, both of which showcase the city's diversely rich history. And if you're a foodie, you'll be spoilt for choice; from Indian dishes at The Ocean, to a Caribbean feast at Simmer Down, this city makes a point of celebrating global influences and encourages locals to experience culinary delights from afar.
Transport in this city
Due to its prime location in the West-Midlands, travelling in, out and around of Coventry is easy.
While the aesthetics of its inner ring road leave something to be desired, the duel carriageway links the city centre to the M6, making it an easy location to reach for commuters from the north east. In addition, Coventry is surrounded by direct routes to the M1, M45 and M40, making it the perfect hub to live, no matter where you work.
If you're not a fan of driving, this city also offers great rail links. Its main station is served by West Coast Main Line, featuring service providers such as CrossCountry, London Midland and Virgin Trains. As a result, Coventry has services to Glasgow, Birmingham, London and beyond.
This city also has plenty of local and national bus services and is just some 11 miles from Birmingham International Airport, so you'll never be short of a ride in this location.
Housing in this city
Thankfully, whether you're looking to rent or buy, property prices in Coventry are affordable. Last year (2016), property prices averaged £180,615, which is significantly cheaper than nearby towns Meriden (£296,772) and Hampton-In-Arden (£404,079).
Bear in mind that as the University of Warwick is in the centre of Coventry, you may find yourself living around student digs. In fact, it is thought that the demand for student accommodation in the CV47 postcode area, which covers the University, led to the rise in house prices of almost a quarter, last year. Therefore, if you're looking to move to this area, you ought to act fast!
Education in this city
In addition to prestigiously-ranked University of Warwick, this city is also home to the modern University of Coventry. The two universities lie in the heart of the city, just five miles apart.
Coventry also hosts a large selection of colleges, around 90 primary schools and 28 secondary schools, putting it as a hot spot for education, no matter what level you seek.
Like the sound of living and working in this city? Search jobs in Coventry today.
Laura Slingo is Digital Copywriter for the UK's leading independent job board, CV-Library. For more expert advice on job searches, careers and the workplace, visit their Career Advice pages.