Find IT jobs from your mobile

Today's technology has made searching for a IT jobs easier and more convenient than ever. Online job boards have become simpler to use, faster at generating results and many include smart filters that can help tailor the right job for you.
Once you're at your computer you're just a few clicks away from your next job opportunity, but what if you want to search for jobs whilst you're on the go? Mobile apps and responsive websites have made it possible for anyone to find their next career move right from a mobile device. 
The smart phone has created a new user experience for browsing and interacting with content due to its large screen and touch interface, allowing mobile apps and websites to have a number of options and features to compete with the standard desktop interface.
Introduction of Mobile Apps
The App Store opened in 2008 following the release of the iPhone 3G and was a revolution for businesses who could now promote their products on smaller screens and on the go. Google followed with their Android Market, later known as the Play Store for Android mobile devices and downloading apps for your mobile phone became an everyday thing. The number of apps available on the App Store went from 500 in 2008 to almost 1.5 million by 2015 resulting in 100 billion downloads to date.
If a business already had an online service available e.g an e-commerce site for buying products or a job board, then there was certainly an interest in introducing an app and many companies found a new (and often large) traffic of users because of it.
Mobile Responsive Websites
Websites are experiencing more traffic from mobile than ever before and it's easy to understand why. Mobile screens are bigger and more responsive and cellular data is almost as fast as Wifi so visiting a website from your phone has become a very seamless experience. Because of this, websites have invested in responsive designs so a website will recognise your mobile device and re-adjust the layout to your device's size to make browsing and engagement more convenient without fully changing the environment.
Before responsive design a website may have appeared in its normal state, which would make navigating slightly cumbersome as you would have to pinch to zoom and tapping on links didn't always work as well. The other popular alternative for websites was to redirect the user to a dedicated mobile version of the website. This provided easier navigation but sometimes wouldn't have the same content as the main desktop site since it was actually a different website and changes or amends would have to be done twice. This called for a new way to browse websites on our mobile and responsive design eventually became a cost-effective alternative to mobile applications.
Technojobs Mobile App
Technojobs' mobile app is available for free on iOS and Android. Just  search for Technojobs or click the respective buttons at the bottom of this article for direct links to the store if viewing from a mobile device.
The Technojobs has thousands of IT jobs advertised regularly and has been
Simple and easy to use – job search on the go
Searches remembered to make it quick, simple and timely
Notifications from new matching relevant jobs – that fit your criteria
Search all permanent and contractor vacancies
Thousands of UK jobs and selected IT jobs from Europe and overseas
You can apply via the app or email the job to yourself or a friend
Includes all sectors within IT such as Programming, IT Support, Web development, Web Design
Plus extensive Project Management and Analyst related jobs
Keep up to date with the Technojobs News and all the latest useful guides
To download the app please tap on the relevant button below to download to your device.
Find an IT Job with Technojobs Mobile App
Once you have downloaded the app all you need to do is tap on Jobs and fill out the fields to begin your search for jobs in IT. You can save jobs to your favourites tab to return to them at a later date as well as email job descriptions to others.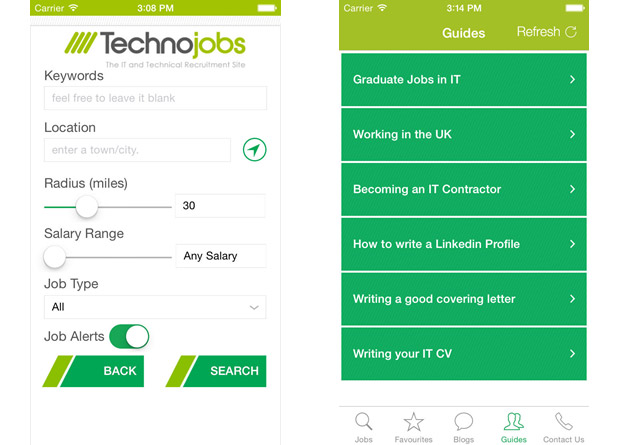 Find IT Jobs from your Mobile Browser
You can also find IT jobs available through your device's mobile browser too. Tap the link below to begin your search.